Trademark Registration In Dubai UAE
We are providing Trademark Registration Services in Dubai, UAE. Companies/Investors/entrepreneurs can protect their brand by registering their trademark.
Trademark Registration
Trademarks are used to distinguish goods, products or services irrespective of their source or to indicate that registered goods, products or services belong to the trademark owner.
Trademark can be Names, Words, Signatures, Letters, Figures, Drawing, Logos, Titles, Hallmarks, Seals, Pictures, Engravings, Advertisements packs, Any Other mark or group of marks, Voice (If accompanies with the Trademark) or any other combination intended to be used as trademark.
The Trademark will be registered with UAE Ministry of Economic. The Trademark registration certificate will be valid for 10 years in all the emirates of UAE, namely Abu Dhabi, Dubai, Sharjah, Umm Al quwain, Ras Al khaima, Al Ain and Fujairah from the date of trademark registration and can be renewable on expiry by paying applicable fees at that time.
Trademark owners can avail the following benefits:
Brand Protection
Competitive Advantage
Monetary Benefits by franchising registered trademark or resell
Increase in Companies Goodwill
Prevention of unauthorized use of trademark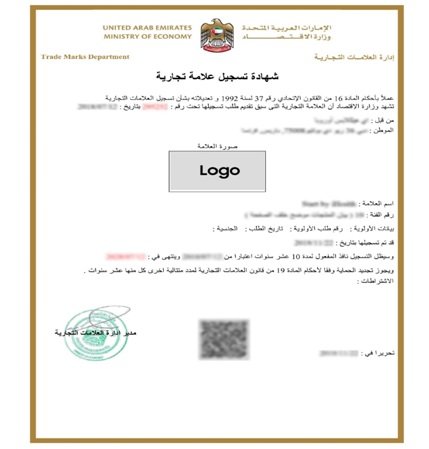 Requirements For Trademark Registraton
E-mail, Mobile number and Address of the applicant.
Trade License or Commercial License copy
Passport copies of the owner or partners of the company.
Emirates ID of the owners/ partners of companies.
Memorandum of Association (MOA)/ Article of Association (AOA).
Certificate of Incorporation (if Free Zone Company).
Digital Copy of Trademark/Brand/logo.
List of goods/services to be protected with description.
Notarized Power of Attorney in Dubai, UAE Court. (We will provide the template)
Additional documents or authorization may be required depending on your business activity, the jurisdiction of business and other such factors.
Payment of Starstorm Fees AED 1999
FREQUENTLY ASKED QUESTIONS